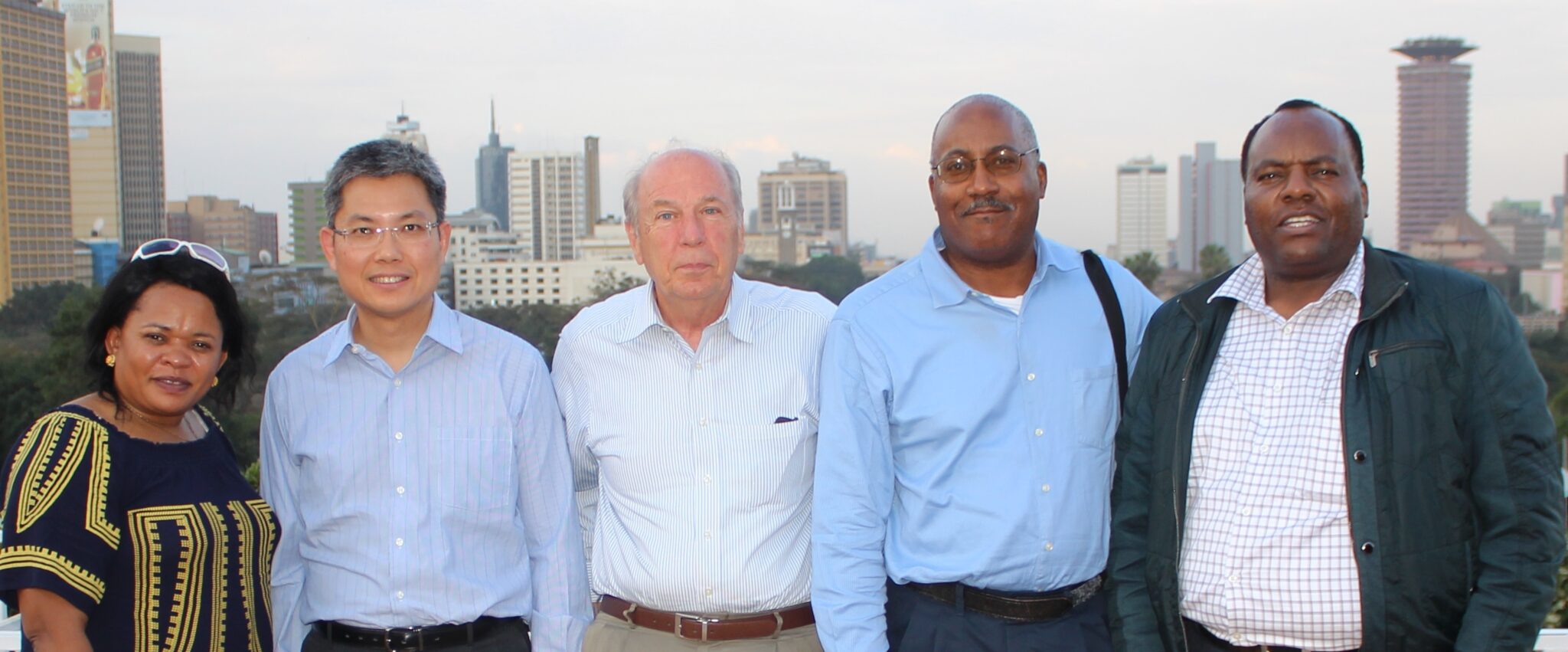 I had the privilege of visiting the African nation of Zambia during the time that it was rewriting its constitution.  One of the issues on the table was the question as to whether the constitution should declare the country to be a Christian nation.  Although several countries recognize an official state church, Zambia was the only nation in the world whose constitution formally declared the country a Christian nation; but now with the rewriting of the constitution, there was a strong move afoot to list the country as a secular nation.  Since my host in the country was a delegate on the committee to word the clause in the new constitution that would either uphold the nation's previous status or revise it, I was asked to give my input.  In fact, I was actually asked to give my feelings during a live national television interview, and I followed up by giving a full message on the topic during the Sunday morning service at his church.  Of course, I was cautious to explain that — as a foreigner — I was not there to get involved in politics and told the story of my experience when I was accosted by a very inebriated gentleman (well, I guess that this is not a very accurate term for this particular guy) on a train in India.  This incident happened during a time when the internal unrest that eventually led to Indira Gandhi's assassination by her own trusted bodyguard was already brewing, and the drunken man insisted that I tell him if I felt that her policies were fair or not.  No matter how boisterous or violent the man became, I refused to commit myself — remarking only that as an outsider I only knew part of the story.  I confessed that it seemed that she was a good leader but that I couldn't comment more because there was probably a lot that I didn't know about her.  However, I felt that I could say a little more in the case of the Zambian constitution question because I could answer it from the Bible rather than contemporary politics or current events.
The Bible has a lot to say about government, and it actually determined the theocratic government of the Old Testament nation of Israel.  Israel's government was originally a God-ordained leadership through prophets, priests, and judges.  It was only when the people insisted that they have a king like the other nations that a secular government was put into place.
Then all the elders of Israel gathered themselves together, and came to Samuel unto Ramah, And said unto him, Behold, thou art old, and thy sons walk not in thy ways: now make us a king to judge us like all the nations.  But the thing displeased Samuel, when they said, Give us a king to judge us. And Samuel prayed unto the LORD.  And the LORD said unto Samuel, Hearken unto the voice of the people in all that they say unto thee: for they have not rejected thee, but they have rejected me, that I should not reign over them.  According to all the works which they have done since the day that I brought them up out of Egypt even unto this day, wherewith they have forsaken me, and served other gods, so do they also unto thee.  Now therefore hearken unto their voice: howbeit yet protest solemnly unto them, and shew them the manner of the king that shall reign over them.  And Samuel told all the words of the LORD unto the people that asked of him a king.  And he said, This will be the manner of the king that shall reign over you: He will take your sons, and appoint them for himself, for his chariots, and to be his horsemen; and some shall run before his chariots.  And he will appoint him captains over thousands, and captains over fifties; and will set them to ear his ground, and to reap his harvest, and to make his instruments of war, and instruments of his chariots.  And he will take your daughters to be confectionaries, and to be cooks, and to be bakers.  And he will take your fields, and your vineyards, and your oliveyards, even the best of them, and give them to his servants.  And he will take the tenth of your seed, and of your vineyards, and give to his officers, and to his servants.  And he will take your menservants, and your maidservants, and your goodliest young men, and your asses, and put them to his work.  He will take the tenth of your sheep: and ye shall be his servants.  And ye shall cry out in that day because of your king which ye shall have chosen you; and the LORD will not hear you in that day.  Nevertheless the people refused to obey the voice of Samuel; and they said, Nay; but we will have a king over us; That we also may be like all the nations; and that our king may judge us, and go out before us, and fight our battles. (I Samuel 8:4-20)
From the very first notion of the institution of a secular government, the Lord declared to the people that the end result would be trouble.  He even went so far as to declare that the people of Israel were literally rejecting Him in setting up a secular government.  In this, are we to interpret that secular governments are wrong, sinful, and ungodly?  No.  In fact, the Bible has much to say about the secular governments of the world.  Paul's classic teaching on the role of secular government is found in Romans 13:1-14.
Let every soul be subject unto the higher powers.  For there is no power but of God: the powers that be are ordained of God.  Whosoever therefore resisteth the power, resisteth the ordinance of God: and they that resist shall receive to themselves damnation.  For rulers are not a terror to good works, but to the evil. Wilt thou then not be afraid of the power? do that which is good, and thou shalt have praise of the same: For he is the minister of God to thee for good. But if thou do that which is evil, be afraid; for he beareth not the sword in vain: for he is the minister of God, a revenger to execute wrath upon him that doeth evil.  Wherefore ye must needs be subject, not only for wrath, but also for conscience sake.  For for this cause pay ye tribute also: for they are God's ministers, attending continually upon this very thing.  Render therefore to all their dues: tribute to whom tribute is due; custom to whom custom; fear to whom fear; honour to whom honour.  Owe no man any thing, but to love one another: for he that loveth another hath fulfilled the law.  For this, Thou shalt not commit adultery, Thou shalt not kill, Thou shalt not steal, Thou shalt not bear false witness, Thou shalt not covet; and if there be any other commandment, it is briefly comprehended in this saying, namely, Thou shalt love thy neighbour as thyself.  Love worketh no ill to his neighbour: therefore love is the fulfilling of the law.  And that, knowing the time, that now it is high time to awake out of sleep: for now is our salvation nearer than when we believed.  The night is far spent, the day is at hand: let us therefore cast off the works of darkness, and let us put on the armour of light.  Let us walk honestly, as in the day; not in rioting and drunkenness, not in chambering and wantonness, not in strife and envying.  But put ye on the Lord Jesus Christ, and make not provision for the flesh, to fulfil the lusts thereof.
In this passage, Paul makes it explicitly clear that we are to live in total respect and submission to the civil authorities, recognizing them as actual ministers of God.  We may well wonder how we can possibly view the men and women in the halls of power as ministers of God.  The first thing that we must remember at this point is that just because someone is a minster of God does not make him righteous, honest, or smart.  The Bible is full of examples: Eli's sons took sexual advantage of the women who came to worship at the tabernacle of God (I Samuel 2:220), King Saul tried to kill innocent David (I Samuel 18:11), the scribes and Pharisees robbed the widows of what little they owned (Matthew 23:14), the priest and the Levite left the poor victim on the side of the road to Jericho to die (Luke 10:31-32), Jesus described His disciple Judas as actually being a devil (John 6:70), and the list goes on and on.  Yet, even in their error and sinfulness, we are to show respect to those in position by acknowledging that God has placed them there in spite of their faults. (I Samuel 26:11)  This is not to say that God approves of their wickedness or that we are to sit complacently by and allow evil to proliferate.  The Bible is full of examples of God's personal intervention to remove evil rulers and of His using godly men as his instruments to confront them.  God personally cast down Nebuchadnezzar (Daniel 4:30-33) and Herod (Acts 12:21-23) but used human channels to bring down Jezebel (II Kings 9:30-33), Eglon (Judges 3:15-22), and many more.  The prophet Hosea declared that the authorities that had been put in place were not of God (verse 8:4), and Daniel confirmed that it was totally in the power and sovereignty of God to remove and establish earthly rulers (verse 2:21).  The Apostle Peter helped us understand the tension between honoring and obeying the authorities and judging their error.  He wrote that we must submit ourselves to every ordinance of man, stating that it is the will of God.  He then explained that through doing so we can put to silence the ignorance of foolish men in that we do not use our liberty in Christ as a disguise for our own evil intensions. (I Peter 2:13-15)  However, Peter was also the one who stood before the Sanhedrin and declared, "We ought to obey God rather than men" (Acts 5:29).  In essence, Peter advocated that we make every effort to live in submission to the government and its policies because the root cause behind most disobedience is evil intent in our own hearts; however, we have an obligation to withstand the government policies if they are in direct contradiction to the laws of God and if we are living in submission to those divine laws ourselves.  At this point, we are called upon to make some serious introspection before we can object to the governmental authority over us.  If our own actions are not motivated by honesty, integrity, and generosity, we are not in the position to question or condemn the lack of honesty, integrity, and generosity of those in position above us.  However, when we are certain that our own motives and actions are pure and godly, we have a moral responsibility to bring the government into accountability.  Before we examine the ways we can do so, let's go back to the life of the Apostle Paul and see what relationship he had with the government of his time.  When he was arrested and threatened with beating, he took advantage of every right and privilege he had as a Roman citizen. (Acts 22:25)  When there was a conspiracy against his life, Paul used his status under the Roman legal system for his protection. (Acts 23:17)  When he realized that extradition to Jerusalem would seal his doom, the apostle exercised his legal right of appeal to ensure that he not fall into the deathtrap set for him by the Jewish officials. (Acts 25:11)  So, we see that Paul did not see himself as an enemy of the state or the state as his adversary.  In fact, even when the government had imprisoned him and was ready to execute him, Paul seemed to say that even their act of killing him would be a fulfillment of God's will and, therefore, a blessing to him. (Philippians 1:21)  He even served as a divine advisor to the government on at least one occasion (Acts 27:9-10); even though they refused his advice, they soon discovered that his instructions were beneficial and crucial to their very lives (Acts 27:21-44).  Because Paul held no malice against the Roman government even though they were oppressing and persecuting believers, he was able to receive benefits from the government and give his blessing to it.
The bottom line seems to be that we must have a pure heart to be able to influence the government.  If our hearts are filled with greed, deception, or pride, then our motives and actions will be exactly the same as the men and women who have enacted public policy.  In that case, we will not be able to bring any healing to the nation or its economy.  Jesus taught us, "A good man out of the good treasure of his heart bringeth forth that which is good; and an evil man out of the evil treasure of his heart bringeth forth that which is evil: for of the abundance of the heart his mouth speaketh." (Luke 6:45)  It is only if we have pure hearts that we can speak pure and godly counsel into the policymakers of our day.  I encourage every Christian to take advantage of every opportunity he has to influence the government through casting his vote for honest candidates, making phone calls and writing letters and emails to men and women in office, taking an active role in town meetings.  He can also volunteer at his local political party office or candidate's campaign office when reputable candidates are promoting worthwhile causes.  Furthermore, he can submit well-written and constructive editorials to the news media, post well-researched and logical blogs on the internet, and make constructive comments on websites, Facebook, tweeter, and any other social media.  Additionally, he can provide his pastor with thought-provoking articles, books, and videos that can help him understand how he can play an important role by informing his congregation.  But before any one of us can step into any one of these roles, we must thoroughly examine our own motivations.  Anything done out of greed, the desire to gain personal recognition, the motive of stirring up trouble, or a vendetta against someone is a totally ungodly motivation that God cannot bless or cause to prosper. (Galatians 5:26, I Corinthians 13:1-3)
Nathan pointed his finger into the face of the adulterous King David and point blankly accused him. (II Samuel 12:7)  He could do so because he was a long-time trusted friend and advisor of the monarch.  David listened because he knew that when Nathan spoke, he was doing so for the good of the king and his kingdom — not because the prophet had a personal grudge against the government or because he had a secret agenda that would bring him some personal gain.  We, too, can blatantly point out the errors of the government if we have first, through our personal efforts and support of the government, won the platform from which to make such allegations.   John the Baptist also fearlessly made boldfaced accusations against Herod the tetrarch.  Even though the prophet eventually lost his head over these indictments, he was not immediately executed because Herod recognized his reputation as a prophet. (Matthew 14:5)  Let's back up and see how John had gained such a reputation.  Luke chapter three records that John the Baptist's message was one of financial integrity; he told everyone that they should share their clothes and food with those in need, he addressed the tax collectors by telling them not to oppress the citizens through collecting extra coins for their own pockets, and he encouraged the soldiers to be content with their wages and to not extort money from hapless victims.  As an advocate for such simplistic but equitable reforms, there is no wonder that he gained the reputation of a prophet and had a stage from which to speak out against Herod's transgressions.  The Old Testament prophets called the government "on the carpet" but also worked within the system to prove their loyalty and allegiance to the government they brought under their scrutiny.
The next step is to actually step up to the plate to execute change.  Joseph intervened in the nation of Egypt at a time when the monetary system had failed. (Genesis 47:15)  He prevented a national crisis by implementing a fair taxation program and a resource management system for the country.  When he interpreted Pharaoh's dream to reveal that there were to be seven years of plenty followed by seven years of famine, he also added a divinely inspired proposal as to how to deal with what would otherwise be an inevitable economic collapse.  He suggested that one fifth of the resources of the land be stored up during the years of plenty and then rationed out during the years of scarcity.  This was obviously a divine plan in that the math doesn't add up at first.  Since there were to be only seven years of supply to sustain the people during the fourteen-year period, it would seem logical to store up half of the harvest during the first seven years in order to supply for the following seven years when there would be no income.  However, Joseph had divine insight in human nature.  He understood that if he taxed the people at fifty percent of their production, they would lose their motivation to work and would actually produce less.  I personally witnessed the crippling effect of this sort of government-takes-all policy during the communism regime in Russia.  When I visited Leningrad during the closing days of the communist era, there was no food on the shelves in any of the stores.  The reason: under communism, the people said that the government pretended to pay them so they pretended to work.  Years later, I revisited the city — now known as St. Petersburg — to find that it was a bustling and prosperous city under capitalism.  Why?  Because people never work harder than when they are working for themselves.  Just like the lack of motivation under communism had paralyzed the USSR, so the lack of motivation brought on by too high taxes in Egypt would have essentially voided out the bounty that God was intending to give the people during the first period of plenty.  However, Joseph understood that if he taxed the people at twenty percent, they would have enough left in their hands that they would be motivated to produce even more.  To spell this principle out on a microfinance level, imagine that you can produce ten bananas and the government taxes you two of them.  Looking at the eight bananas in your hand, you are likely motivated to try to produce twelve bananas the following year so that you will have ten left over when the government takes its share.  The following year, you may be motivated to try to produce fifteen so that you'll have a dozen after taxes.  It doesn't take an Einstein to see how Joseph's plan actually caused the nation to multiply its prosperity during the short window of opportunity that economists today would call a bubble market.  There was, however, one negative aspect to the bounty that flourished in the Nile delta, the people found themselves in slavery even in the midst of overflowing prosperity.  Unfortunately, no one seemed to practice good money management on the personal level while the government was implementing it on the national level.  Even though the individuals had four times as much resources in their own hands as they turned over to the government, they failed to save any of it for the future.  The result was that when the famine came, they had to buy back their own food from the government.  Interestingly enough, the twenty percent that Joseph had saved was enough to feed the nation and also support outsiders who came to buy food from his warehouses.  Certainly, the families who had eighty percent to work with could have saved back enough to carry themselves through the coming drought.  Instead, they used all their resources and had nothing to live on during the hard times. (Genesis 47:13-21)
Before we leave Joseph, let's look at the internal aspect of this pure-hearted man.  On several occasions, he had opportunity to take credit for his accomplishments; however, in each case he acknowledged that it was not his own wisdom or ingenuity that had been demonstrated.  He gave God the total credit.  When confronted with the dreams of the butler and the baker, he never claimed to be able to interpret them; he simply confessed that the interpretations of dreams belong to God. (Genesis 40:8)  When summoned to interpret Pharaoh's dream, he again gave all the credit to God. "God will give Pharaoh an answer of peace." (Genesis 41:16)  Joseph accepted the position as Pharaoh's number one man, not because of his own ability, but because the Spirit of God was with him. (Genesis 41:38)  Even when testifying to his own family, Joseph emphasized that it was God, not his own achievements, that had secured him the position as lord over all Egypt. (Genesis 45:9)  We could simply sum up this point with the word "humility."  Another significant characteristic we see about Joseph was that he was a man who never gave up his faith in God.  He had more occasions than most to give up hope; yet, he somehow kept on trusting that God would do what He had promised.  Certainly, when the pit was a great place to throw in the towel — but he didn't. (Genesis 37:24)  As a slave, Joseph somehow kept on believing that others would be bowing to him rather than his always being the one to kiss the dust before his Egyptian master. (Genesis 39:1)  Just when Joseph had begun to feel that he was crawling out of his captivity and had become the master over Potiphar's house, he suddenly found himself in a dungeon.  Yet, even in the prison, faith was still alive in his heart. (Genesis 39:20)  When he saw a glimmer of hope as he sent the butler to Pharaoh with a message of his unjust imprisonment, Joseph found that he was a forgotten man with an unheard appeal.  Nonetheless, he refused to give up his faith. (Genesis 40:23)  One of Joseph's most important qualities was feeling.  He never lost his sensitivity to others.  Certainly, Joseph's life was full of tragedy and hardship that could have turned him heartless and callous to the world around him.  But, his testimony bears no indication that he ever lost that cutting edge of gentle compassion.  Genesis records that he wept (verse 42:24), that his bowels did yearn as he wept (verse 43:30), that he could not refrain himself as he wept aloud (verses 45:1-2), that he kissed and wept over his brothers (verse 45:15), that he wept for a good while (verse 46:29), that he wept at his father's death (verse 50:17), and that he wept when he granted final forgiveness to his brothers (verse 50:17).  Never letting bitterness or hardness enter our hearts is one of the most important keys to success in life.  Genesis 50:16-21 records one of the most moving stories in the biblical annals.  It is the story of a man who has been hated, betrayed, and plotted against by his own brothers.  After second thoughts on the scheme to murder him, they doomed him to the lowest station in life — that of a slave, a less-than-human piece of property to be used, abused, and misused at the whim of his master's will.  Suddenly, these cruel brothers were confronted with the fact that this young lad is now their master and held their lives in the palm of his hand.  One quick hand motion and their heads would be on the chopping block.  Out of this macabre plot comes the most powerful statement of forgiveness ever spoken short of Jesus' own affirmation from the cross, "Father forgive them for they know not what they do." (Luke 23:34)  Joseph's immortal words still ring with power millennia later as we read, "Ye thought evil against me; but God meant it unto good, to bring to pass, as it is this day, to save much people alive.  Now therefore fear ye not: I will nourish you and your little ones." (Genesis 50:20-21)
Three other examples of individuals who took up the challenge of political position in order to effect change were Nehemiah, Esther, and Daniel.  Nehemiah stepped into the role of rebuilding the city of Jerusalem as it lay in ruins after the Babylonian invasions.  He did so by acting on two levels.  First, he used his influence with the king to gain accesses to resources (Nehemiah 2:8); next, he appealed to the average citizen to get involved in the project (Nehemiah 3:1-32).  But let's look at his personal life to see what was working behind the scene to qualify him to bring about these great accomplishments.  Like Joseph, he was a man of great sensitivity.  Even though he was miles away from Jerusalem and in a secure position, his heart was "tuned inside out" when he heard about the suffering in his city. (Nehemiah 1:4, 2:3)  Again, like Joseph, he was a man of faith who knew that God could and would act to correct the injustices against His people and that he (Nehemiah) could be an instrument in the hand of God as He was righting this wrong. (Nehemiah 2:20)  In Queen Esther's case, she stepped forward to realign a major portion of the wealth of the Persian Empire that was being used to destroy God's people into funds in the hands of God's faithful servant. (Esther 3:9, 8:7)  But the backstory to her courageous actions has to do with the change that took place in her heart to motivate her actions.  Originally, she was interested simply in her own personal wellbeing — taking care of number one, as we say. (Esther 4:11)  In fact, she was initially embarrassed by the fact that Mordecai was making a public display of himself, apparently sensing that his actions could eventually cause her to look foolish since he was her closest living relative. (Esther 4:4)  However, the whole picture changed when she realized that God had placed her in a position of authority for the purpose of securing the good of the public rather than her own personal pleasure. (Esther 4:14)  In fact, her heart was so changed that she became willing to take on a dangerous role that could have cost her life. (Esther 4:16)  Again, we see that the power of change that she exerted was a direct result of her godly heart.  Daniel, like Joseph who took over the entire economy and monetary system of Egypt because of his supernatural wisdom that exceeded any other counselor's ability (Genesis 41:39), was also elevated to a position of national policymaking because it was obvious that he had divine wisdom and understanding (Daniel 5:11, 14).  None of these individuals presented him- or herself as a raging fanatic touting conspiracy theories.  They were all levelheaded individuals who knew how to present themselves politely, yet confidently, before the authorities and decision makers of the country.  Because they knew how to fit in, they could be accepted in the halls of power.  They were accepted because they cared for the people whose lives would be affected by the policies they were to enact.  As the little saying goes, "No one cares how much you know until they know how much you care."
Jesus summed up the whole matter with one simple statement, "For where your treasure is, there will your heart be also." (Matthew 6:21, Luke 12:34)  In both instances where He made this statement, He was speaking of laying up for ourselves treasures in heaven where they do not rust and decay like they do here on earth.   It is obvious that the way He felt that we could accumulate investments in our heavenly bank accounts was through expressing charity toward our fellowman.  Therefore, if our treasures are invested in other men, our hearts will follow our treasures — others.  In other words, if our motivation for wanting to correct our nation's monetary polices is how it effects our own bottom line, then our treasure is still physical treasure.  In that case, we will be tainted in both our motives and actions.  In fact, we might even advocate unjust monetary practices as long as they bring us personal profit.  On the other hand, if we have made our heavenly account the top priority, our hearts will follow our treasures — other people.  The end result is that we will advocate and champion honest causes and equitable policies that bless others immediately and will set a course that will not implode upon itself, leaving destruction in its wake for any future generations.
Paul instructed us to pray for those in authority so that we can lead quiet and peaceable lives in all godliness and honesty. (I Timothy 1:1-2) He finishes the sentence with the reminder that the prayers really are for ourselves in that the end result is that our own lives will become more peaceable.  Every decision — right or wrong, wise or unwise — that our government makes eventually winds up affecting our personal lives.  Therefore, it is only in our own best interest that we take the time and go to the effort to understand the policies and decisions being implemented on the local, state, and national levels so that we can intelligently pray for the men and women who make those decisions.  We must pray that they will have the perception and integrity to make wise and honest choices.
One of the most moving passages in the Bible comes from exactly this seedbed.  The prophet Isaiah was in deep intercession before the Lord after the death of King Uzziah whose very name meant, "God is my strength."  During his fifty-two-year reign, this great man had brought Judah to one of the truly high points in her history.  Prosperity, peace, advancement, surety, safety, strength, justice, and righteousness characterized this golden period.  However, Isaiah knew the legacy that had developed: good king, evil king; prosperity, poverty; righteousness, idolatry.  His nation's sordid history was as predictable as a yo-yo.  As certain as it would go up, it would go down.  The higher it would go up, the further down it would plummet.  After reaching such a high point, Isaiah feared the roller coaster ride down to the bottom that must surely await him and his people.  In his quandary, Isaiah was forced to his knees to seek an answer from God.  And the answer did come — that it doesn't matter so much who was on the earthly throne as long as we realize that God Himself was on the heavenly throne!
In the year that king Uzziah died I saw also the Lord sitting upon a throne, high and lifted up, and his train filled the temple.  Above it stood the seraphims: each one had six wings; with twain he covered his face, and with twain he covered his feet, and with twain he did fly.  And one cried unto another, and said, Holy, holy, holy is the LORD of hosts: the whole earth is full of his glory.  And the posts of the door moved at the voice of him that cried, and the house was filled with smoke. (verses 6:1-4)
Having mentioned the spiritual rollercoaster ride that Israel experienced with their mix of godly and ungodly kings, we would do well to take a look at the one king who seemed to be the best of both worlds — secular ruler and prophet man of God.  King David earned a place of distinction because he was a man after God's own heart. (Acts 13:22)  As we have already seen, the heart of the matter seems to be the matter of the heart.  Whether we desire to influence the governmental rule from without or within, we must do so with the right heart attitude.  Therefore, it is no wonder that God specifically chose David over his brothers when He directed the prophet Samuel (the man of God who was so concerned because the he felt that the people had rejected him when they desired to have a king) to go to Jesse's house to anoint a monarch to lead the nation.  No matter what leadership potential the seer could discern in the other seven contenders for the throne, God declared that only David had the right internal qualifications.  "But the LORD said unto Samuel, Look not on his countenance, or on the height of his stature; because I have refused him: for the LORD seeth not as man seeth; for man looketh on the outward appearance, but the LORD looketh on the heart." (I Samuel 16:7)   Even though David ruled the nation with the authority of a powerful civil leader, his real strength lay in his sensitivity to an open relationship with God.  He described his underlying formula for national government.
Blessed is the nation whose God is the LORD; and the people whom he hath chosen for his own inheritance.  The LORD looketh from heaven; he beholdeth all the sons of men.  From the place of his habitation he looketh upon all the inhabitants of the earth.  He fashioneth their hearts alike; he considereth all their works.  There is no king saved by the multitude of an host: a mighty man is not delivered by much strength.  An horse is a vain thing for safety: neither shall he deliver any by his great strength.  Behold, the eye of the LORD is upon them that fear him, upon them that hope in his mercy; To deliver their soul from death, and to keep them alive in famine.  Our soul waiteth for the LORD: he is our help and our shield.  For our heart shall rejoice in him, because we have trusted in his holy name.  Let thy mercy, O LORD, be upon us, according as we hope in thee. (Psalm 33:12-22)
Notice that David described a two-fold criterion for a successful government: 1) The nation as a whole — especially symbolized by the government and particularly the king as the unique person of authority –has to be in right standing with God.  2) People as individuals must make a conscious choice for the Lord.  The unfortunate reality is that it is possible for one but not the other condition to be in place.  For example, a nation can adopted a very godly stance and put severe laws in place against prostitution; yet, if the people continue to have lustful thoughts even though they don't have occasion to act them out, God still holds them accountable for having committed adultery in their hearts. (Matthew 5:28)  On the other hand, it is possible for the people as individuals to deliberately and obediently follow the Lord and still be hindered in obtaining national blessing if the nation as a whole is in disobedience.  A classic example can be seen in the story of Caleb and Joshua; they were righteous and godly in their desires and actions, but the rebellion of the nation as a whole hindered them from entering the Promised Land for four decades. (Numbers 14:33-34)  Interestingly enough, this is one of the very few biblical examples of a democratic rule — where the vote of the majority overruled the leadership of godly spokesmen.
The bottom line is that a Christian nation cannot simply be one that is declared so on paper; it must be one in the hearts of both the leadership and the people.  John Adams, the second president of the United States of America, apparently understood this truth when he penned the immortal words, "We have no government armed with power capable of contending with human passions unbridled by morality and religion…Our Constitution was made only for a moral and religious people.  It is wholly inadequate for the government of any other."  In other words, it doesn't matter what the constitution writers say on paper about a government; the real essence of any nation is determined by what is in the hearts of the people and their leadership.  Thomas Jefferson, who not only followed Adams in the Presidency but was also one of the major contributors to the Constitution of the United States, clarified this truth even more candidly with his powerful observation, "The reason that Christianity is the best friend of government is because Christianity is the only religion that changes the heart." Now that we've quoted the second and third presidents of the United States, let's go back and hear from the second and third kings of Israel.  Solomon, Israel's third royal, affirmed, "Righteousness exalteth a nation: but sin is a reproach to any people." (Proverbs 14:34)  David, the second to wear the nation's crown, attested, "Happy is that people, that is in such a case: yea, happy is that people, whose God is the LORD." (Psalms 144:15)
I know that it seems that we've strayed a long way from the constitutional rewrite in Zambia, but let's head back to Lusaka (the nation's capital) for just another few minutes.  While the debate was underway in the legislature and among the citizens, one surprising turn of events developed — the advocates of an official declaration of a Christian nation received unexpected support from a totally unforeseen ally when the Muslim minority expressed their unanimous backing for the motion!  To the Muslims, it was a "no-brainer."  They were totally accustomed to and comfortable with the idea that a nation whose majority population is of the Muslim faith be officially considered an Islamic nation under the rule of sharia law.  At least two dozen countries around the world today are officially Islamic nations, and many of them actually bear the title of Islam in their names.  They unabashedly testify to the entire world that their foundational ideologies and ruling values come directly from their Muslim faith.  When I applied for a visa to Bangladesh, I received a fairly sizable pamphlet explaining sharia law accompanying the necessary visa forms.  When I landed in the Maldives and handed over my passport to be stamped, it was returned with a brochure explaining that while in the country I had to be aware that certain dress requirements were imposed when in public and that consumption of alcohol was restricted to certain beach resorts and expatriate clubs in the cities.  So for those who were accustomed to unapologetically taking a stand for their convictions, there was no question that the Christian majority of Zambia should do the same.
My recommendation to the people of Zambia was that they shouldn't back down from proclaiming that they intend to base their nation on the only infallible source of values and ethic — the Bible.  Furthermore, I commended them that they unashamedly proclaim to the world that they know that the only authority through which they can have a strong and peaceable government is through the practice of the Christian faith.  However, my warning was that they never feel that simply writing the words into the constitution would be their "ticket" to a godly society or that they could expect the government to make the difference. No matter what the constitution says, it is always what each individual believes and lives by that will determine whether Zambia, the United States, or any country on earth is a nation.  The real foundation for a nation is in the hearts of the people, not the documents in the statehouse.  The real key is in the continual proclamation of and acceptance of the gospel.
I am not ashamed of the gospel of Christ: for it is the power of God unto salvation to every one that believeth; to the Zambian first, and also to the whole world. (My personal paraphrase of Romans 1:16)