Family News
Last year, we opened our Christmas letter by saying that our family had not grown during the last year – not even a new granddog. Well, this year we have exciting news – Christopher, our middle son, covered both of those bases. Yes, we have a new granddog – Indiana Shirley (named after a nickname that Delron picked up when we lived in South Bend). But even more exciting, we have a new grandson – Sheridan Christopher Shirley born on November 19 to Christopher and Megan.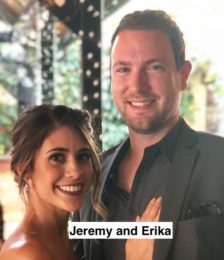 Jeremy, our youngest, is entering his third year as a commercial real estate broker in Colorado Springs and has been acknowledged with several awards including Rookie of the Year. His girlfriend, Erika, is pursuing an accelerated nursing degree program this coming fall. Yeti, the favorite granddog of the Shirley family – according to Jeremy – is enjoying his amazing Colorado life with the family.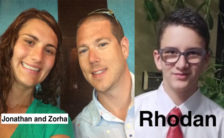 Jon, Zohra, and Rhoden have had a very exciting 2018. Earlier in the year, Jon accepted an offer to work for an investment banking firm in Colorado Springs. Zohra is getting closer to completing her degree in Computer Science, and Rhoden has entered the world of junior high and has started his own cell phone repair service in addition to becoming an amazing drummer.
Missions News
The year has also been full of other excitement with our travels all over the world. Peggy led teams of Charis Bible College students to Mexico, Sri Lanka, and Brazil. Delron led a team to the Dominican Republic and also went to India to speak at the four Charis extension campuses in that country. Peggy also made her own visit to India where she not only had the opportunity to minister in several women's conferences but also was able to train a group of Bhutanese women who crossed the border into India to attend a special conference for them. In addition, Delron made two trips to Africa. The first trip took him to the Democratic Republic of the Congo, Rwanda, and Kenya; a second trip was to Nigeria.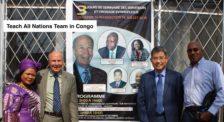 Other Outreaches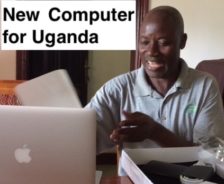 In addition to all that we get a chance to do through hands-on ministry, we have also had the opportunities to further the work of other ministries by assisting them to obtain the tools they need for their work. One example was the request that we received from a pastor friend in Uganda, stating that he needed a new computer. The request came a couple days before one of Delron's students was to leave for the country; so, he had to make a quick decision to get the computer to her before she left the States. He found a lot of used and refurbished ones; however, he knew that he needed to get a new one since it would be a waste if there were problems with it in Africa. Thinking of the Golden Rule, he decided to buy the one that he would want for himself – a $1,300 machine. Fortunately, he could get it for a little over $800 online. The next day, a lady that he had never known before came up to him at a meeting and handed him a check that covered the cost of the laptop plus some extra! The African pastor was so excited with the new machine that he could hardly find words to express himself for the provision of the necessary equipment to make his work faster, easier, and more enjoyable. Additionally, we were able to provide a state-of-the-art scanner-printer-copier to another ministry that helps feed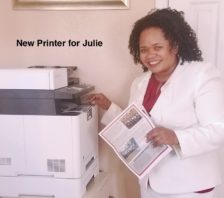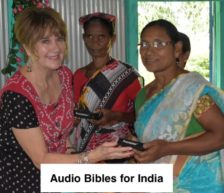 and educate destitute children in Africa. By owning their own printer, they are able to save enough money each month to support two more children each month and to expand their support-raising efforts in order to rescue even more children. In India, Peggy brought solar-powered audio Bibles and distributed them among illiterate tribes and also provided them with visual Bible lessons so they can learn and understand the Bible's truths.
Literature News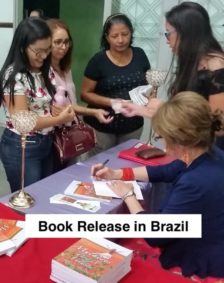 One thrilling aspect of our ministry that is continuing to grow and become even more effective is the translation and distribution of our books around the world – often in places where we are not even able to go. This year a second of Delron's books was released and additional copies of Peggy's book were published behind the Quran Curtain – making a total of over ten thousand of our books that are in circulation in this highly restricted Muslim country. Additional copies of Peggy's book were printed and distributed in Thailand, where over twenty-five thousand copies have been distributed. One report that we have received concerning the impact that these materials are having had to do with a pastor who was adamantly opposed to allowing women in any form of ministry because of his church affiliation. After reading Peggy's book, he was so changed that he said he could barely identify himself with his denomination. Maximum Impact, one of Delron's recent books has become widely acclaimed by pastors around the world and is currently being translated into Spanish, Portuguese, and Nepali while Peggy's Women for the Harvest was released in Portuguese this year and is presently being translated into Hindi – the fourteenth language. Delron just published a set of three small books which all revolve around the same theme – the importance of having a renewed mind. He jokingly says that all great authors write a trilogy; so, he wrote his just in case he ever becomes a great author.
One interesting discovery about the impact of our literature came when Delron met a student in the hallway between classes. When the young man yawned just as they passed, Delron joking commented, "You look like you've just been sitting through one of my lectures." The gentleman was, of course, caught off guard by the comment and asked what he meant. Delron responded, "You were yawning like you were in one of my boring classes." The stranger's reply was that he didn't find Delron's classes boring at all – and, in fact, he had been hoping to get a chance to meet Delron to tell him how much his teaching had meant to him and his wife. A few days later, they got together for lunch where the student shared that he had actually studied at an extension campus where he had Delron's classes on video. He began by telling us about an event that occurred a Wednesday night when he was sitting in a restaurant in downtown, busy preparing a teaching based on Finally, My Brethren" for his Friday night church Bible study. He explained, "As I was typing my lesson, I was getting really excited about the book of Ephesians, God's promises, and the way Dr. Delron teaches us to look at our position on the battlefield before putting on the armor and standing against the enemy. Great stuff! Little did I know that I would soon enter a battlefield that night. As I walked outside to leave the restaurant and pick up my wife from night classes, I discovered that my car had been towed. Wow, this was not good. I walked the seven blocks to pick up my wife and ask for some students to drive us to the tow shop where my car is located. Upon seeing my car inside the compound, our friends ask us if we want them to remain until picking up the car. My famous last words were, No worries; everything is okay What can possibly go wrong? It was 10 pm, and we were in the middle of nowhere – about 1 hour from my home. On top of all that, I had an important early-morning meeting with a customer the next day. Therefore, I need to quickly resolve this matter, get home, prepare for my next day meeting, and get some sleep. When the tow truck company's employee allowed me to enter my car to take out the necessary documentation to prove ownership, he explained that he could not release the car because it was not my car. I tried to explain that it wasn't actually my car but a company car that I had exclusive use of. His response was that the only way I could get the car was to have the Human Resources department issue a written authorization. Of course, there was no one in the office at that hour of the night. At that moment, my wife and I began wondering why this was happening because we both have been studying Dr. Delron's book about how we are the head and not the tail, how we are more than conquerors, and how the enemy has already been defeated. We rebuked our negative and fearful thoughts and focused on God's promises instead of the problem in front of us. I tried to calmly negotiated – which was not my common behavior because I would have usually panicked – my wife was outside praying in tongues. Because of what we had learned from Dr. Delron's book, both my wife and I were confident that Jesus had already won the battle. After some discussion, the Holy Spirit directed my wife to look at a single document that the tow truck employee and I overlooked. This document listed both my employer's name and my name; however, the employee insisted that the paper was not an official document and was not valid for him to release the car. However, he agreed to call his boss – even though it was the middle of the night – to discuss the matter. After some back-and-forth discussion, the employee said that his boss felt the "something" was telling him to release the car. At that point, he told us that he had never been given such authorization to release the car without an official document. When I went to the Human Resources department the next day to request for official documentation to be sent to the tow truck company, we discovered that out of the over seventy employees with company cars I was the only one that had a document which listed both my name and my employer's name. I realized that we as Christians, have God's favor. Before going into battle, we need to first look around and understand our position in the battle – a position of favor and an already winning status. My wife and I are eternally grateful to the insight that Dr. Delron shares about the book of Ephesians in his book titled, Finally, My Brethren."
The same gentleman continued with yet another example of how this book had impacted his life. "My wife, a friend, and I were sharing an Airbnb while attending an out-of-town conference. Since the owner was at home, we had time to share with her each evening after the meetings. When she told us that she has been dealing with neck and shoulder pain for almost forty years and that she didn't understand anything about healing. For two nights, we shared with her about God's promises, and frequently referenced Dr. Delron's Finally, My Brethren book. My last words to her one evening were Read the book of Ephesians and mediate. The next morning, this woman's faith was so stirred up from staying up all night long reading the book of Ephesians and listening to our summary of Finally My Brethren. She told us that she was ready to receive her healing; so, we prayed for her and spoke God's blessing over her. Two days later, my wife received a text message from saying, It really works; I'm healed! If it were not for Dr. Delron's teaching in Finally My Brethren, we too would not have the revelation about God's promises in the book of Ephesians."
He then concluded with, "Because of the impact that this book had on us and others, we ALWAYS include Dr. Delron's teachings from Finally, My Brethren in our Bible studies within the US and Philippines. Thank you Dr. Delron for your faithfulness in teaching the word. We also intend to use the strategies as outlined in "Maximum Impact" during our future missionary work in the Philippines".
Another encouraging report came from an individual who has had the Finally, My Brethren book for approximately seven years. He said that he pulls it out every few months to reread portions because he feels that it gives him a blueprint for his life.
Special Treats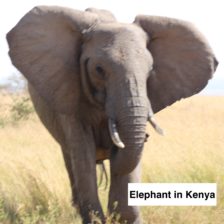 During Delron's visit to Kenya, the team was privileged to have three free days to do a wildlife
safari in one of the national parks. Peggy had the opportunity to visit an elephant compound in Sri Lanka and take a ride on one of the friendly giants.
One special treat that we learned of this year was that one of our former students has a special prayer time with her young nieces each time she receives our newsletter. She reads the newsletter to them and even looks on the world map to show them where we have been. The children even followed up by writing us letters to tell us a little about themselves and included drawings of themselves and their pets. One girl even said that she hoped to be a missionary someday.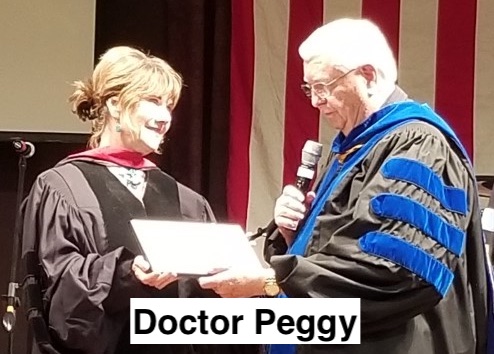 One of our biggest surprises of the year came when we were speaking at a church in California. Just before the pastor – who also happens to be the president of a Bible college – introduced Peggy, he stepped to the side of the stage and put on his doctoral robe and then had his associate pastor drape a second doctoral gown on Peggy and presented her with an honorary doctorate degree in recognition for all her international ministry. He closed the ceremony by looking at the two of us and commenting, "Now you are a paradox (pair of docs)."